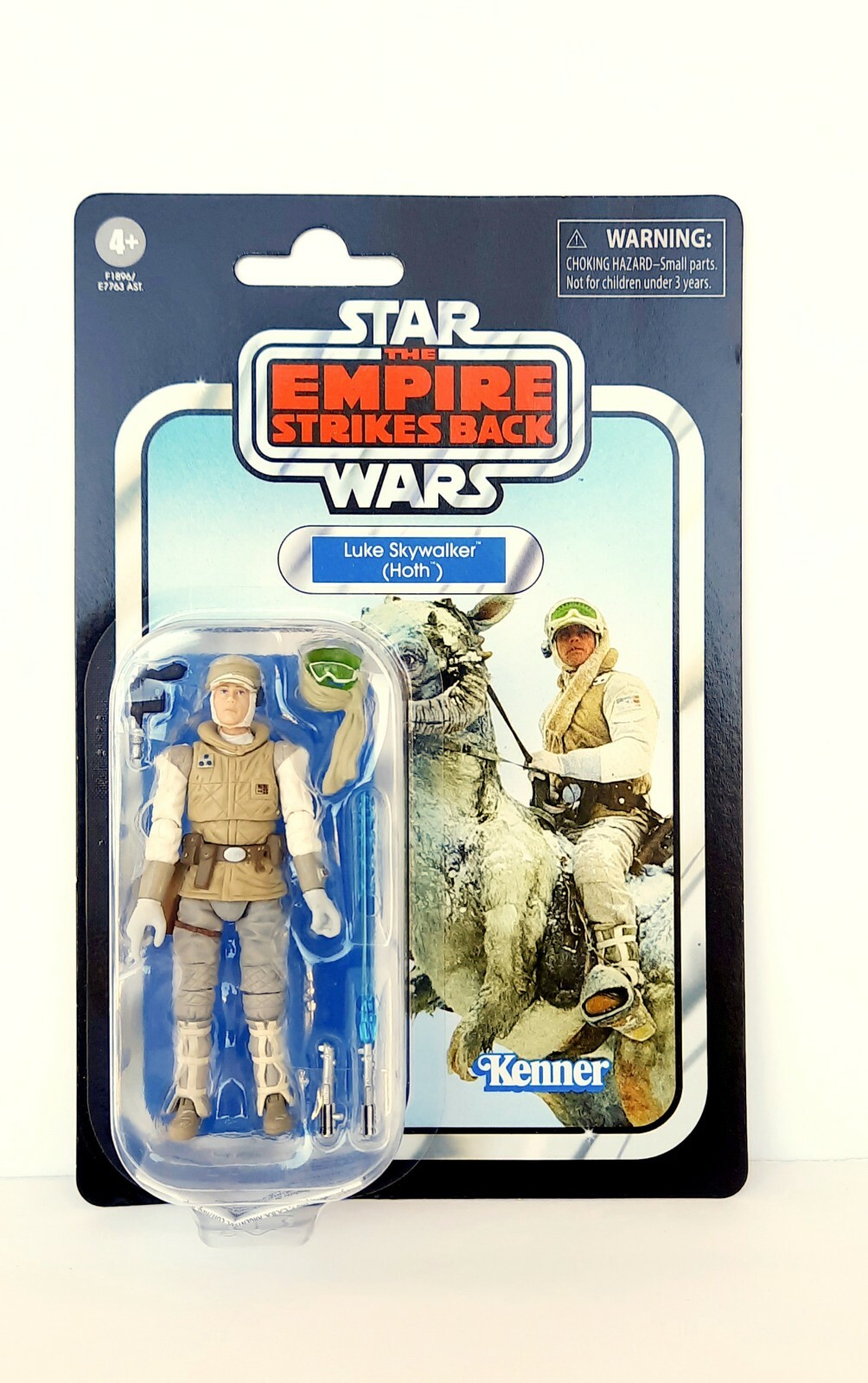 Price: 20.00 USD
Star Wars Figure:
Star Wars Vintage Collection Luke Skywalker Hoth VC95 3.75″ Figure Hasbro F1896




Star Wars The Vintage Collection Luke Skywalker (Hoth) The Empire Strikes Back VC95 3.75 inch Action Figure Kenner F1896 made by Hasbro and New for 2021.
——————————————————
Luke Skywalker (Hoth):
• While out scouting on the ice planet Hoth with his friend and Alliance Captain Han Solo, Commander Luke Skywalker was viciously attacked by a wampa.
• Luke escaped the ice creature's cave, severing the monster's arm with his Father's Blue Lightsaber that was gifted to him by Obi Wan Kenobi years before
• After escaping the wampa cave, but badly injured from the wampa attack, Luke is lost and stranded far from the Rebel base and exposed in the rapidly dropping temperature of a Hoth night.
• Luke passes out and is near freezing to death but suddenly hears and sees Ben Kenobi's force ghost instructing him to find Yoda at Dagobah and train to be a Jedi.
• As Ben's Force Ghost fades and disappeared, Han Solo arrives with shelter and saves Luke's life
• Luke Skywalker recovers from his injuries in a Bacta tank and leads the Rebel defense against the Empire's ground forces, including massive AT-AT walkers, giving the Alliance time to evacuate the planet Hoth.
Star Wars The Vintage Collection:
• PREMIUM DESIGN: Each figure is designed with the same premium quality found in The Black Series Line.
•  ARTICULATION (posable joints): This figure has 5 Points of Articulation.
• Each Vintage Collection Figure comes with it's unique identitifying number in the collection. This number starts with VC and is followed with a number. This figure is VC95.
• The Movie or TV Show Sub Series that a figure is from will be found on the front cover. This figure is part of Empire Strikes Back Series
• This Luke Skywalker Figure is based on his encounter on Hoth while out scouting. Luke is equipped in his snow suit he wore while out in the freezing frigid Hoth weather
• Luke comes with his Father Anakin's blue lightsaber ignited, the lightsaber hilt unignited, his blaster, and hat and googles worn for protection from the bitter cold of Hoth while out scouting on his Taun Taun.
• This figure is free of any major rips, tears, bends, creases or damage to the cardback
• Its condition is similar to a C8-9 on the C figure Grading Scale
• Ships Via USPS Free Shipping
Thank you for your interest and God Bless You!
——————————————————
Collecting is not a hobby! It's Nostalgic Love and an artform! One of the most important parts of this art is displaying the figures! Pypeline Collectibles assumes every figure shipped will be displayed in it's box or card back; therefore, every item is wrapped and sealed for protection. All boxes are insterted with liner, and if needed, cushioning to prevent figure mobility during delivery. Every box is sealed at every corner, slit, and opening to prevent damage to the maximum amount able. You will find very few sellers that put the love of collecting into shipping an item the way we do! Take a look at our reviews to see the proof! 
• We offer Free Shipping anywhere in the United States! (U.S. Territories and Bases qualify)
• Item or items will ship either USPS First Class or USPS Priority. 
• Item will be shipped 2 business day after payment is received. For better service of our customers and if applicable Monday-Friday if the item is bought and paid for by 3pm EST, the item will ship it out the same day.
• Multi item purchases by the same buyer will be combined for shipping. 
Special Notes on shipping:
• I believe in recycling as much as possible. Therefore if you receive an item in a box from a large brand or retailer (i.e. Target, Walmart, Kroger) that does not mean the item was sourced through this retailer. I collect and any boxes figures are sent to me personally in I like to recycle.
• We do not offer international shipping. For buyers located in Mexico and Canada execptions to the exusclusion can be made in some cases. Please send a message about the specific item to inquire. These exceptions are a case by case basis
• WE DO NOT SHIP TO ANY FREIGHT FORWARDING COMPANIES! ANY SALE WITH AN ADDRESS BEING DELIVERED TO A FREIGHT FORWAEDER WILL BE CANCELED!
**If a buyer has issues with USPS shipping I can ship via UPS. If this is the case please send an offer or message before purchasing. A small flat rate shipping fee will be added when requesting this option. This fee will be split even between seller and buyer. This change is only applicable and available if discussed before payment. When this change to the terms is agreed upon in writing through Ebay Messages I will make the changes on the listing and send the offer link direct via message**
• UPC: 5010993860678
• MPN: F1896
• Unisex Gender Toy
• Ages 4 and up
• Made in China
• Product Weight: 10 oz
• Product Dimensions: 9 x 6 x 3 inches
                                                     (L×WxH)
**********************************************************
Return Policy: We accept returns up to 30 days. For all the details on returns and refunds see Ebay's money back gurantee policy. 
***STATEMENT ABOUT CONDITION***
Items have not been graded or viewed by a professional and any statement on the condition of a Figure/Figures is based on my assesment and opinion only. Any damage that is visable will be included in the item photos.
**********************************************************
Thank you for your interest in this item. Please check out my other items and our store. We offer multi item discounts. God Bless You and your Family and keep you Healthy and Safe.