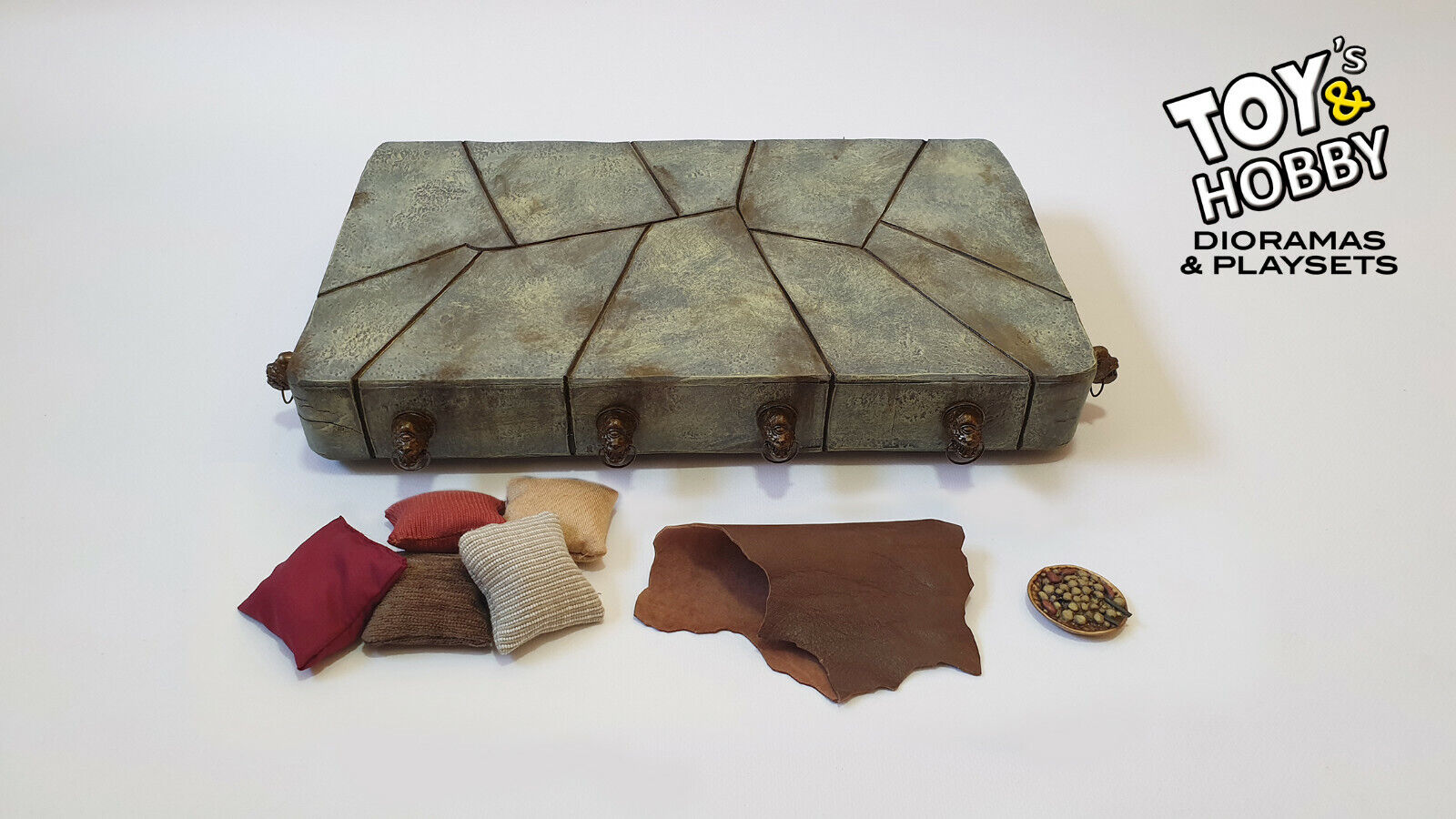 Price: 135.70 USD
Star Wars Figure:
Star wars-throne for jabba the hutt figure black series 6 sdcc hasbro
STAR WARS – Throne Diorama for Jabba Figure Black Series 6 " Hasbro throne room SDCC 2014 Exclusive
Detailed Throne for San Diego comic-con Jabba Figure Black Series 6 ".
Star Wars Episode VI Return of the jedi
***ATTENTION!!

Does not include Hasbro throne room SDCC 2014 Exclusive backrest and pipe., and Jabba and salacious b crumb figures.
Only includes the stone part below of throne, the 5 pillows, 1 artificial fur and 1 Plate of food.
The Throne contains:
 – Detailed throne environment as seen in Star Wars Episode VI.
-1 Plate of food.
-1 Carpet similar to a skin (*Synthetic leather).
-5 Pillows of different colors and designs.(* the color may vary from the photos)
The measures are: 39 cm X 22 cm and 5 cm high.
It fits in an Ikea DETOLF showcase perfectly.
It is manufactured with hard and resistant materials such as: plastic, metal and resin. Hand painted.
Do you still have Jabba on a shelf?

This throne can not be missing in your collection!

The lord of crime needs his throne, his pipe and his pillows!

(Not for Sideshow figures -Hot toys)
 ————————————
STAR WARS – Trono para Figura de San Diego comic-con Jabba Black Series 6" Hasbro Excusiva. Trono detallado para Figura de Jabba Black Series 6".
Star wars El retorno del Jedi.
***¡¡ATENCIÓN!!
El anuncio NO INCLUYE  la sala del trono de Hasbro SDCC 2014, ni la parte trasera del trono ni las figuras de Jabba y Salacious b crumb.
Solo incluye la parte de piedra de debajo del trono, 5 almohadas, 1 piel artificial y 1 plato de comida.
El Trono contiene:
 -Entorno del trono detallado como se ve en el episodio VI.
-1 Plato de comida.
-1 Alfombra similar a una piel (Piel sintética).
-5 Almohadas de diferentes colores y diseños. (*el color puede variar respecto al de las fotos)

Las medidas son: 39 cm X 22 cm y 5 cm de alto.
(Encaja perfectamente en vitrina DETOLF de Ikea)
Está fabricado con materiales duros y resistentes como: plástico, metal y resina. Pintado a mano.
¿Aun tienes a Jabba en una estanteria? ¡Este trono no puede faltar en tu coleccion! El señor del crimen necesita su trono, su pipa y sus almohadas!