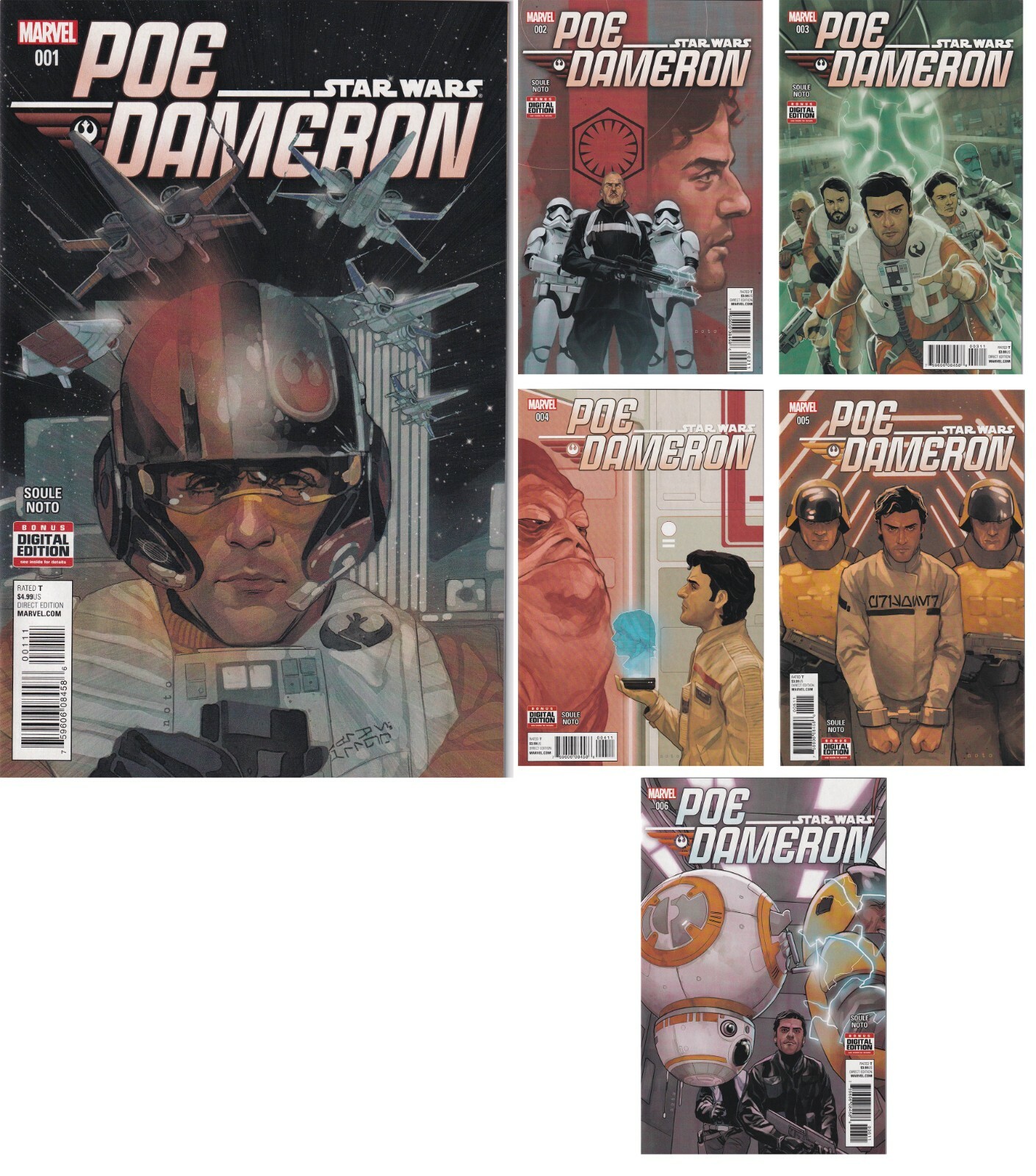 Price: 15.30 USD
Star Wars Figure:
Star Wars Poe Dameron #1-6 (Marvel, Charles Soule, Phil Noto) 2016
Thank you for your interest in this listing!
You are purchasing the item in the title and described below in "About the comic". Pictures on the listing are of the actual item (not stock images).
This listing is for Marvel Comics' Star Wars Poe Dameron issues #1-6 (from 2016). These are all 1st prints. 
Cover versions:
#1 – 

Cover A Phil Noto

#2 – Cover A Phil Noto

#3 – Cover A Phil Noto

#4 – Cover A Phil Noto

#5 – Cover A Phil Noto

#6 – Cover A Phil Noto
About the comic:
Written by Charles Soule and Chris Eliopoulos. Art by Phil Noto and Chris Eliopoulos. 
Poe Dameron, former Republic flyer turned Resistance fighter, is the best pilot in the galaxy. Hand-picked for the resistance by General Leia Organa to lead a squadron on a top-secret and vital mission, Poe sets off to investigate sites of historical importance to the Force – revealing backstory leading directly into The Force Awakens! Follow Poe and his X-Wing squadron on covert missions against the First Order, brought to you by writer Charles Soule (STAR WARS: LANDO, DAREDEVIL) and artist Phil Noto (STAR WARS: CHEWBACCA, BLACK WIDOW)!
Issues #1-3 "Black Squadron" storyline
Issues #4-6 "Lockdown" storyline
About the Creators:
Writer: Charles Soule
Charles has worked with Marvel Comics (Thunderbolts, She-Hulk. Inhuman, Death of Wolverine, Death of Wolverine Weapon X Program, Wolverines, Uncanny Inhumans, Inhumans Attilan Rising, Civil War vol 2, Star Wars Lando, Star Wars Darth Vader, All New Inhumans, Daredevil, Gwenpool Holiday Special, Star Wars Obi-Wan and Anakin, Star Wars Poe Dameron, Daredevil/Punisher Seven Circle, Death of X, Inhumans vs X-Men, Astonishing X-Men, Star Wars Rise of Kylo Ren, Star Wars), SLG Publishing (Strongman), Archaia (Strange Attractors), Image Comics (Twenty-Seven, Skullkickers, Curse Words, Undiscovered Country), DC Comics (Swamp Thing, Red Lanterns, New Gods Godhead, Action Comics, Superman/Wonder Woman, Superman Doomed), and Oni Press (Letter 44)
Charles is author to several novels, including Oracle Year and Anyone. He's begun the Star Wars High Republic series, including the first novel Star Wars Light of the Jedi.
Charles' novels are great reads – please check those out! And Strange Attractors…just wow for that book!
www.charlessoule.com
@ CharlesSoule
___
Artist: Phil Noto
Phil has worked with Marvel Comics (Avengers The Origin, Wolverine and Jubillee, Uncanny X-Force, Black Widow, Star Wars Chewbacca, Star Wars Poe Dameron, Inhumans Once and Future, Daredevil, Cable, X-23), DC Comics (Batgirl, Jonah Hex, Chuck, Before Watchmen Minutemen), Dark Horse (Grendel Red White and Black, Angel and Faith, Ghost), Black Bull (Beautiful Killer, New West), Cliffhanger (Danger Girl), Bongo Comics (Bart Simpsons Treehouse of Terror) and Devil's Due (GI Joe Scarlett Declassified).
philnoto.com
@ philnoto
A
bout the listing:
Issues are VF-NM; I have noted where any issue is obviously lower than NM. VF is most typically due to some minor crease along the spine or corner, or some discoloration … but nothing that would be obvious at a casual look. For lower than VF I've provided some explanation to the condition.
Each issue is individually bagged and boarded (silver age size), placed between cardboard backers, and placed in a Gemini comic mailer. This is then mailed wrapped in a water/tear proof mailing envelope. I use painters tape to better secure packaging.
U.S. Mailing charges: None –  Star Wars Poe Dameron #1-6 ships without additional postage or materials fees!
Delighting you:
If you have any questions about the item, please ask!
If you are not pleased with your purchase…like it's not the item you expected or isn't the grade/condition you thought…please contact me so I can fix the problem. 
About me:
I'm a private collector (not a store); issues are purchased at a LCS and carefully handled. Upon purchase, I place the issue in a bag/board, typically read once, and then store in a short/long box. Over time I've decided these should be enjoyed by other readers or collectors. I am not a professional grader, but I have many years' experience in comic grading. I am confident I've been pretty accurate and the grade is fair.
Follow me: @thetesseractllc for eBay listing announcements and other news!