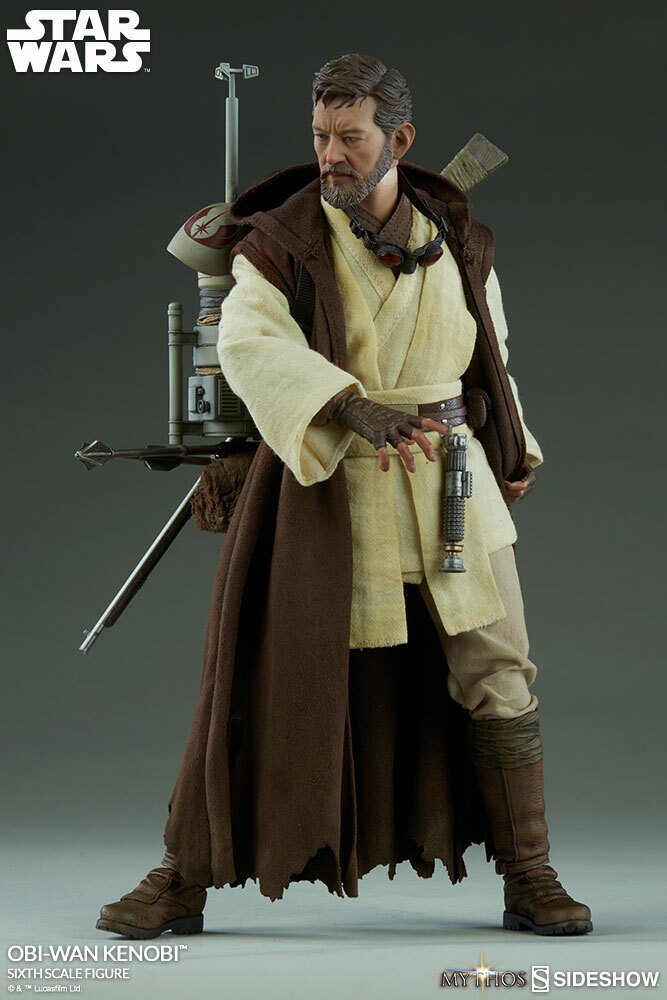 Price: 449.95 USD
Star Wars Figure:
STAR WARS: MYTHOS~OBI-WAN KENOBI~SIXTH SCALE FIGURE~SIDESHOW~MIBS




~STAR WARS: MYTHOS~
~SIDESHOW COLLECTIBLES~LUCASFILM LTD~
~IN STOCK & EXTREMELY HOT~
Item Description:
Inspired from the imagination of the Star Wars: Mythos Series, we present the Obi-Wan Kenobi Sixth Scale Figure.
Sideshow is thrilled to introduce a return to the world of the Star Wars collectible Mythos line, with the Obi-Wan Kenobi Sixth Scale Figure.
Intricately detailed by the following Tatooine Artisans: Walter ONeal (Sculpt), JPark (Sculpt), Narae (Sculpt), MJ Kim, Wan Lee (Paint), Namhoon Kim (Paint), Mijin Namgung (Costume Fabrication) and The Sideshow Design and Development Team.
As a collection, Sideshow's Mythos series are fine art collectibles that allow the collector to imagine what could have been but maybe never was. Myths meant to be initiated by the eye and completed by the mind.
The Obi-Wan Kenobi Sixth Scale Figure captures the period in the Jedi's life as envisioned prior to A New Hope, following Revenge of the Sith. He features a detailed likeness as imagined by Sideshow artists to represent an aged Ben Kenobi who has witnessed the destruction of the Jedi Order at the hands of the Empire.
The Obi-Wan Kenobi figure features a Detailed likeness of Obi-Wan Kenobi as envisioned prior to A New Hope, articulated male figure body, Seven (7) interchangeable hands including: One (1) pair of Force hands, One (1) pair of fists, One (1) pair of grip hands, One (1) right trigger hand, Authentic costume includes: tailored fabric Tunic with tabards and sash, Pants, Under tunic, Jedi belt, Sleeveless robe, Nomad Pack with 2 Bed Rolls and Bandoliers, One (1) pair of Jedi boots with wraps, Authentic weapons and accessories included: Obi-Wan's lightsaber with removable blade, Qui-Gon Jinn's lightsaber hilt, Anakin/Luke Skywalker's lightsaber hilt, Modified Tusken rifle, Two (2) Gaffi sticks, Portable moisture vaporator, Grappling hook, Droid caller, Macrobinoculars, Goggles and Clone wars armor (cannot be worn by figure).
This amazing figure was produced in a strictly Limited Edition by Sideshow Collectibles. This is our very *Last One, so don't be left wandering in the Tatooine desert for not capturing the cunning Jedi Master for your Star Wars Collection!
The Mythos Obi-Wan Kenobi Sixth Scale Figure is in brand new, mint condition, case fresh, in his original sealed art box, still packed inside his original Sideshow brown shipper box. Direct from the manufacturer's Tatooine supply warehouse without price stickers or case wear.
OBI-WAN KENOBI is in STOCK & ready to SURVIVE!
Payment Details:
We accept payment through Paypal. Please contact us for other payment arrangements. Buyer must contact seller within 3 days of auction end. Payment is due within 7 days of auction close or item will be relisted. Please, Serious Buyers Only!
Shipping Details:
All domestic orders will ship UPS Ground. For this Amazing Auction we are offering *Free Shipping & Handling (insurance included) to anywhere in the continental United States. *Alaska and Hawaii have additional *Discounted shipping charges.
For International buyers, we are only using the eBay Global Shipping Program. International buyers are responsible for their Countries duties, taxes and fees associated with International shipping.
Multiple action figure auctions won may be combined at a reduced shipping charge. Some items due to their size and weight can not be combined.
For all US buyers, if your purchased items are damaged or lost during shipment, we will send all necessary documentation to file a claim with the specified carrier (UPS). *Shipping & Insurance charges are not refundable. We will gladly refund your purchase price after the specified carrier settles the claim.
For all international buyers, if your purchased items are damaged or lost during shipment, we will refund your purchase price only after the specified carrier (eBay) settles the claim.
Please post all questions prior to auction end as all sales are final.
Feedback Details
Feedback ratings are an integral part of the eBay Community. We take great pride in providing the finest quality collectibles for the most discriminating buyers. All our items are carefully inspected & professionally packaged.
Our feedback rating is very important to us, so please feel free to check our reviews to clarify our dedication to all our customers.
After you receive your item and the joy & euphoria has temporarily subsided, we would appreciate a moment of your time to leave favorable feedback for us. This lets us know the item has arrived safely and you're already enjoying your treasured item. We will in turn, gladly leave favorable feedback for you. If you are not completely satisfied with your purchase, please contact us immediately and we will try to achieve an agreeable solution.
Good Luck & Happy Hunting!