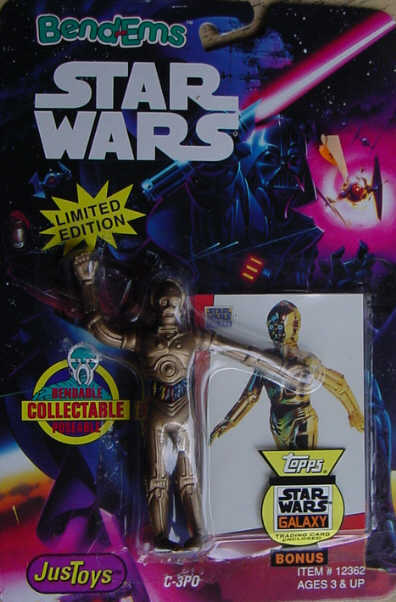 Price: 7.96 USD
Star Wars Figure:
Star Wars Bend Ems C-3PO figure Just Toys 23627
Star Wars Bend Ems C-3PO figure Just Toys 23627
Description
As pictured a great little collectible by Just Toys 1995 that resparked the current wave of Star Wars modern collectibles. Each stands appx 5″ tall and comes on blister card packaging. Shipping Weight 8.00 ounces
UPC: 020616123627
Collectors -If you are a collector we recommend the 'Mint' upgrade service. Search Mint upgrade in our store for more details.

Items listed as New – guaranteed to be in new playable condition. Packages may have normal nicks, scuffs, package denting and edge wear from transportation. All new items ship from factory cases. 

Items listed as Used – please read details carefully. Packages may be resealed, defective, repairable or sold without packaging, missing paperwork, certificates or missing accessories.

Manufacturer may randomly insert variants into factory cases or slightly change color scheme without notice and as a result may slightly be different than picture used.  We do not accept requests for variants. 



  Thank you for shopping with Toysheik – a family run business.