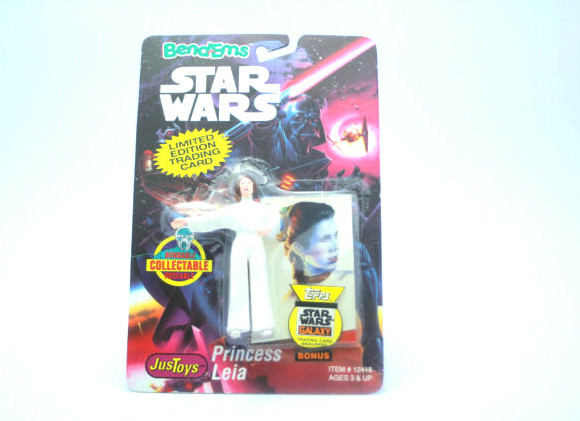 Price: 13.20 USD
Star Wars Figure:
Just Toys Star Wars Bend-Ems 12418 Princess Leia Figure 1993
Item ID: 531053-66/A/01

Description: Just Toys Star Wars Bend-Ems Princess Leia Figure 1993

Manufacturer:  Just Toys

Manufacturer Part Number:  Does Not Apply

Condition Note:  NEW

We offer UPS, Fed Ex, and USPS Overnight Shipping on most Items, Items must be purchased by 1pm Pacific time, Please Email for a quote if you need this service, in most cases we can ship on your own UPS or Fed-ex Account.
Terms of Sale
PayPal is the only form of payment accepted at this time. PayPal accepts Visa, Master card, American Express and other payment options. For shipments within California the buyer is required to pay State sales tax.
International buyers are responsible for any Broker Fees, Duty Fees, Custom Charges and Local Taxes.
Values will not be lowered on Custom Forms or marked as gifts.
Some items we sell will not ship out of the Continental United States. Make sure the particular listing states World Wide Shipping Or ask before purchasing.
Due to the variety of products sold by us and their broad range of applications, those responsible for the procurement, installation, application and/or use of purchased equipment must satisfy themselves that all components meet performance and safety requirements including but not limited to: all applicable laws, regulations, codes and standards.
Shipping Information
All items shipped to a destination in the Continental United States are usually shipped via UPS or USPS. Items are typically shipped out within 1 Day of receiving payment (excludes Weekends and US Holidays)
Shipping Discounts will be given to multiple item sales, Please Email us for a quote prior to Purchase.